Bill Pay makes managing money much easier; it's secure, convenient, and FREE. There are many benefits to using Gulf Coast Business Bank electronic bill pay services and it's available through the GCBB Internet Banking portals.  This convenient approach to managing your bills saves you time, as all of your bills appear in one place instead of needing to log in to multiple online accounts.
Additionally, bill pay is available in both GCBB Internet and Mobile Banking platforms so managing your budget and finances is easy to do no matter where you are. Below are the highlights of paying bills electronically:
Bill Pay is Convenient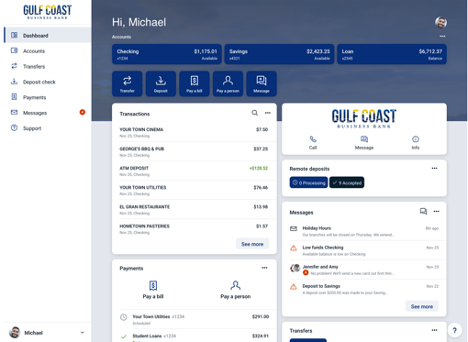 Making online payments through GCBB Internet Banking makes it convenient to pay all your bills from a central location. You do not have to log into multiple websites and remember multiple passwords.  Whether paying your bills electronically or by mail, you can utilize online banking to schedule payments. After scheduling your payment, we will either pay those companies electronically or send them a paper check.
Bill Pay is Secure
Online banking is considered to be much safer than paying by a check because it reduces the risk of identity theft. GCBB will ensure the best security protocols are in place to keep your transactions secure.  Some of those include usernames and passwords, encryption processes that keep your data hidden during electronic transit, and automatic sign-off if your online session idles too long. 
Security risks are not eliminated entirely; however, online banking is more secure than sending your personal information through the mail.  Electronic bill payment services via GCBB Internet Banking makes paying your bills online easy and saves you time and money.
Bill Pay Keeps you Informed
When you pay bills electronically, you can check account balances and determine whether your bill payment has been scheduled and paid. Other advantages include: checking for specific payments online, the ability to access your online payment history, setting up email alerts, and scheduling future payments.
Paying bills online eliminates paper waste and reduces paper checks being mailed. In addition to eliminating paper waste, it also eliminates the costs of postage and envelopes.
Bill Pay Let's You Consolidate Your Finances
Bill pay allows you to consolidate your bills in one place.  Collect your bills or have them emailed to you.  From there, they can be automatically paid from your account on the dates you specify. Online bill payment is a common alternative to paying bills with checks or cash.
Bill Pay Keeps you Organized
It is certainly possible to lose focus on your finances, but electronic bill payments help you organize your records. With all your bills and payments organized in one single place, you can easily tell if something is posted incorrectly, or if you missed a payment completely.  
Bill Pay Saves you Time
Why make paying bills any more time consuming than it has to be? Once you have the electronic bill payment service set up in online or mobile banking, it takes just minutes to pay your bills. If you use the automatic bill pay feature, you'll save even more time.
Sign up for Bill Pay Today
Access to internet banking is required.  If you are an existing customer and not already signed up to use Bill Pay, it's free and easy to get started.
Contact us at 239-345-BANK for more information.