How To Rise Above Interest Rates
How To Rise Above Interest Rates
Most everyone carries a variety of debts, including loans and credit cards with variable rates. The Federal Reserve has raised the borrowing rate twice this year with more hikes expected in the near future. When interest rates climb, the pay back can become more expensive, meaning you may have to carry the debts longer and will pay more for them. Increases in rates can also make it harder to borrow in the first place.

The first and best thing you can do to protect against rate hikes and inflation is to know your current finances. Get an idea of where you stand financially, both personally and with your business if you're a business owner. List your assets, noting savings, money market accounts, and securities that are easily convertible to cash if needed. List all debts with their current interest rates and note whether they are variable or fixed. 
Mortgage rates have risen roughly three percent in the past year alone. Consider the rising cost of groceries, supplies and gasoline as you determine your monthly budget. Evaluate how rate hikes can affect both your personal and business budgets. You may find some debts you can eliminate, refinance to fixed rates (especially for larger debts like mortgages), or transfer to zero interest rate cards. Shop around for the best offers. 
In some cases, inflation can help offset some debts by increasing the value of assets, so it's important to understand which payoffs make the most sense. For example, we've all seen the rise in home and auto prices. A car you bought brand new three years ago is likely worth more today than the day you drove it off the lot. Typically, vehicles depreciate the minute you drive them, but because of inflation the value today has increased rather than decreased (depending on the condition and mileage of the vehicle, of course). When inflation is up, your loan to value ratio decreases and your money might be better off in savings or spent on other debts in lieu of paying off low interest fixed rate mortgages or car notes.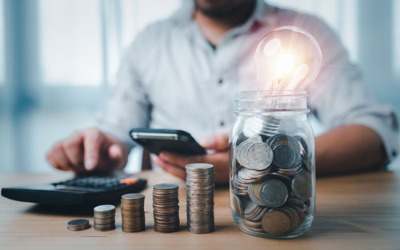 Though prices are up on just about everything, keep saving! A good rule of thumb is to save 10-15% of your total income. Read the
Richest Man in Babylon,
by
George Samuel Clason
. Even if you have to build it up over time, make it a priority to accumulate liquid, accessible savings of six months to a year's worth of expenses. This helps provide peace of mind and avoids additional high-rate credit card debt during already stressful times of emergency.
Saving is crucial at this time because of the looming threat of recession.
The Fed is trying to slow inflation, but it is a very delicate balance not to tip into a recession. It's imperative to take the time to assess how we can live within our means, minimize debt, and prepare for times of economic downturn. As a local community bank offering personal service you won't find with large national chains, Gulf Coast Business Bank (GCBB) can help turn your
business variable rate loans into fixed rate loans
and potentially lower the payment, and increase available cash flow for yourself or your business. As a trusted advisor who can help you explore your options and achieve your dreams and goals, GCBB is all about supporting the Southwest Florida community. Call
239-345-BANK (2265)
to speak with a representative today. 
Bill Blevins is President and CEO of Gulf Coast Business Bank (GCBB). Locally owned and operated by some of Southwest Florida's most experienced bankers, GCBB is personally invested in the success of the community and its businesses. Through highly competitive and tailored products and services, state-of-the-art technology, and personalized banking decisions made locally, GCBB goes above and beyond to build a strong and consistent growing local economy.