Survive Economic Downturn
Hurricane Ian: Is There a Blessing for Southwest Florida?
When Ian made landfall as a Category 4 hurricane on Cayo Costa Island, it had maximum sustained winds of 150 mph – tied for the fifth-strongest storm to ever hit the United States. Even more devastating was the storm surge caused by the high tide, the full moon, and the storm's pace as it slowly made its way to land. I live on the Estero River and had over 5 feet of storm surge which flooded houses and totaled cars. When you compare that to what happened on Fort Myers Beach, Sanibel, and Captiva Islands – we were the lucky ones. There is no consolation for the lost lives and destroyed homes and businesses.
However, there is something to be said about what happens to Southwest Florida after a devastating storm. Neighbors reach out and help neighbors, businesses start buying local again, volunteers come from all over Florida to help. Our community stands shoulder to shoulder and we start the rebuilding process together. The first 3-4 days are a blur, no power, no water, no gas, no… and slowly electricity starts coming back, food appears in grocery stores and gas at gas stations. If you have lived in Southwest Florida for 20 years, you remember the names of Charley, Wilma, Irma, and now Ian. While there was incredible devastation with all these storms, the influx of federal and state aid along with insurance funds totaling in the millions of dollars forces our economy to come roaring back. Ian may be the one thing to help Southwest Florida avoid a the "R" Word.
For some reason, I hate using the "R" Word – it just seems a little defeatist – saying the U.S. or Southwest Florida is in a Recession. By all major indicators, the U.S. is technically in a recession as defined by having two consecutive quarters of slowing economic growth. However, this feels different in Southwest Florida as we experience strong employment numbers, a consistent increase in population over the last two years, and a housing market that is not out of balance like it was in the great recession of 2008.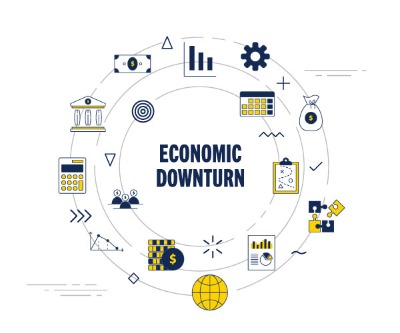 On a national basis the Federal Reserve has made it clear that controlling inflation is more important than full employment. The fed has raised the prime rate to 6.25% and most economist do not expect this to stop until prime reaches the mid 7% range. Today, there are two job openings for every one worker and the Fed is attempting a delicate balance of slowing the economy and eliminate one of the two job openings.


Unfortunately, over the last 50 years a soft landing has rarely occurred. The stock market is moving towards "bear" territory with the S&P and Nasdaq both down 20%. The bond market has an inverted yield curve (the 2-year treasury rate is higher than the 10-year treasury rate – this pattern has successfully predicted recessions over last 50 years) and now the credit markets are showing corporate bonds are averaging a 5% (and growing) premium over treasury bills. The Fed can control the money supply and interest rates, but they can't control supply chain issues and a war in Ukraine.
Let's look at some of the latest Southwest Florida Regional Economic Indicators as provided by FGCU. They are showing signs that our red-hot housing market is cooling off.
Airport passenger activity has declined 18% from July 2021 to July 2022.
Single family home sales for Southwest Florida have decreased 29% from July 2021 to July 2022 and active listings are at 8,179 or up 108% from July 2021.
Average sales price of a home in Charlotte is $380,000, Lee is $420,000 and Collier is $748,000.
Single family building permits are down 5% from July 2021 to July 2022
However, bright spots in the Southwest Florida economy include:
Seasonally adjusted taxable sales are up 10% from June 2021 to June 2022
The total labor force increased by 12,139 from July 2021 to July 2022 with a 2.7% unemployment rate in July 2022.
Population growth over the next 25 years is expected to move Lee from 750,000 in 2020 to 1,057,000, Collier from 387,000 to 517,000, and Charlotte from 188,000 to 233,000.

Being prepared is your best defense to mitigate financial setbacks imposed by the economy.
This would be the time to get with your CPA & Banker and review your financials to be sure you have put away a rainy-day fund and possibly establish a line of credit. I like to tell clients a line of credit is like term life insurance – you hope you never need it but, you are glad to pay the annual cost of having it in place if you do. My other recommendation is to establish two banking relationships – one with a community bank and one with a regional bank. I recommend this because there have been quite a few mergers in Southwest Florida, and this might be the first time you are dealing with your new bank that is headquartered out of state or country in a recessionary environment. Unfortunately, a single banking relationship did not work out for some businesses in 2008-2010.

As a trusted advisor who can help you explore your options and achieve your dreams and goals, GCBB is all about supporting the Southwest Florida community. Visit gcbbswfl.com for more information or call 239-345-BANK (2265) to speak with a representative today.

Bill Blevins is President and CEO of Gulf Coast Business Bank (GCBB). Locally owned and operated by some of Southwest Florida's most experienced bankers, GCBB is personally invested in the success of the community and its businesses. Through highly competitive and tailored products and services, state-of-the-art technology, and personalized banking decisions made locally, GCBB goes above and beyond to build a strong and consistent growing local economy.